Steril-Sil Home Goods Products
The Steril-Sil Home Goods product line is designed and packaged for retail store sales. All products come in store-ready, bar-coded packaging. And like all Steril-Sil products, our Home Goods line of products are proudly manufactured, assembled and packaged in the U.S.A.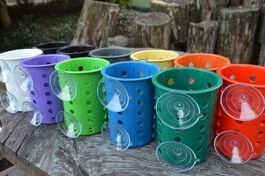 HOLeD UP!
HOLeD UP! Universal Dispensers are the most versatile dispenser available. It's the wide versatility that gives them such universal appeal The unique perforated design and available colors along with the suction cups to mount to any hard, smooth and non-porous surface makes them great space savers and gives them nearly countless uses making them great sellers for your stores. CLICK HERE for more information.
The Lancaster Collection
The Lancaster Collection is an elegant countertop dispenser series ideal for home and outdoor kitchens. The series is made of 304 stainless steel, includes black plastic perforated cylinders or solid containers and a laser cut tree design that is universally loved. The collection includes a 3-hole silverware dispenser, a napkin dispenser and a utensil dispenser, all with the same great lased\ design.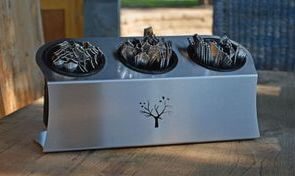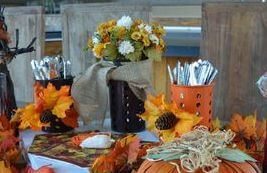 SilvaMate Perforated Containers
The colored perforated SilvaMate containers are available in eleven colors and are great complemental sales for the Lancaster Collection, or on their own to help decorate tables with a functional holder or as the basis of a craft project and so much more. The wide range of colors is perfect for year-round decorating, for themed parties and to compliment other colored product offerings in your stores.